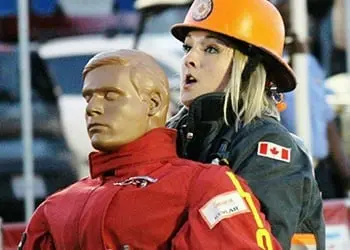 Firefighters are pushed to the limit on the job, whether it is during training sessions, or on a call; crews are constantly learning, adjusting and perfecting their physical and mental skills. Women are challenged to find different approaches to maintain fitness, strength and endurance in relation to their male counterparts.
So what techniques are helpful to maintain fitness and what tricks of the trade do women often share when it comes to on-the-job training, FireFit and the Firefighter Combat Challenge (FCC)?
We interviewed a FireFit and FCC competitor, asking specifically about training tips for women and how to succeed in what was once a male-dominated sport and profession.
Introducing: Keltie-May Nicoll
Leduc Fire Services, Leduc Alberta, Canada
Firefighter / EMT
Keltie has been an active firefighter and EMT for in Alberta, Canada since 2012 and she started participating in FireFit and the FCC immediately upon joining the force. Typically she participates in 4-5 events across Canada and 1-2 in the United States annually, to qualify for FireFit and FCC National and World competitions.
How the FCC Competition Differs for Men and Women
On paper, the combat challenge and FireFit competitions for men and women are exactly the same. Each competitor must complete the course in its entirety with the same weight specifications and often, male and female competitors will race side-by-side. But, there are some physical challenges that women face, which differ from their male competitors.
Wingspan and Upper Body Strength
It's likely no surprise to hear that female competitors often cite sheer wingspan and upper body strength as the main difference between male and female competitors. The differences can be seen in a few key areas of the combat challenge course.
Hoist: Pulling a 45-pound donut to the top of a 5-story tower is a difficult task in full turnout gear, but this aspect of the course can be especially challenging for women because it relies heavily on upper body strength. Male competitors will often use sheer bicep pulling power in a hand-over-hand technique but that technique doesn't always work for women, with a smaller wingspan.
Keltie's Suggestions: "For women it less about the hand-over-hand motion and more about getting down low, reaching and trying to get as much of the rope behind you has possible. Many women I've spoken within the past have recommended using little quick pulls. Quick and smaller pulls help make up for smaller wingspans and allow us to use small bursts of strength, quickly, as opposed to the longer, dragging pull technique the men typically use."
Dummy drag: Almost any competitor you ask will say that the dummy drag is one of the most challenging aspects of the course. By the end or the race, fatigue and exhaustion have set in, and it takes all the strength and endurance one can muster to drag the dummy across the finish line. Many male competitors have the height and upper body strength to grab the dummy quickly, pull it up and go. Females on the other hand, often have to grab the dummy, adjust it to the right position and then start dragging.
Keltie's Suggestions: "The most important part of the dummy drag is to secure the dummy in a comfortable position that will last through to the finish line. Even if it takes you five extra seconds to secure the dummy, it is time well spent when compared to dropping the dummy and starting over. The technique that I use is to pull the dummy up high on my chest and lock my hands in the front to secure the dummy. While this takes a few extra seconds to do, it distributes the weight more evenly as I drag the dummy. More importantly, it also reduces the amount of dummy that drags on the ground, which can increase friction and make the dummy feel heavier."
Size and Power
All competitors are tough, no doubt, but they do come in all shapes and sizes. Most men have no difficultly when it comes to climbing the stairs 2 by 2, or double-stepping, but that technique is not right for everyone. Double-stepping requires very strong quadriceps and at the top of the tower legs will often burn with fatigue. Single-stepping, on the other hand, requires faster finesse movements that fatigue the calf muscles. It is up to each competitor to determine which technique is right for them: power focused double-stepping or speed focused single-stepping.
Keltie's Suggestions:
"I've fought with the dilemma concerning single or double stepping since I began in the competition years ago," Keltie said. "I recently received some great advice from another top female competitor — alternate the single and double-stepping technique. I have transformed my stair climb from one of my weaker events to one of my best by using this alternating technique, which allows me to work both my quads and calves equally, reducing fatigue once I reach the top of the tower."
Top Firefighter Training Tips for Women
Whether it is a simple stature difference or sheer bicep and upper body strength, women often have different techniques to reach the same results for lifting, hoisting, pushing and pulling on the course and on the job.
We asked Keltie to share some of her top training tips with us, take a look below.
Focus on Technique
"One of the best pieces of advice I can offer is to focus on refining and perfecting your course specific technique," stated Keltie. "Most men add extra weight to the donut, or other strength based course segments in training, to help improve strength, but that doesn't always translate well for me. Instead, I focus on perfecting my technique; the faster I can do things the faster my time will improve as well. For me, it's not about building more strength — it's about building more speed."
Keltie's Favorite Current Workout
"I find that sprint training is one of the best ways for me to stay in shape on the job and for competition," Keltie said. "It really helps me to improve my fast footwork technique and increase both my speed and agility. In addition, speed training really helps me build more explosive power in my hips, something I think more females are challenged with than males."
To improve my explosive power and speed, here are my favorite workout techniques: 
Parachute running drills
Rowing sprints: 500 meters in under 2 minutes
Resistance band running drills
Hill spiriting
Interval sprints: 1 minute on, 1 minute off
"Lastly, one of the best suggestions you'll often hear from competitors is to train with your mask on to replicate the course conditions," Keltie added. "I find that when I train with my mask on it puts me in the competition mindset, so when the real competition comes, my nerves are calm and I am prepared because it is exactly like my training sessions."
How Training Prepares Firefighters for Emergency Situations
There's not a doubt that firefighters enjoy participating in firefighter competitions for the camaraderie, the competition and the fun, but their hard work and training also offers on-the-job benefits. Competitor's train, lift and exercise regularly to stay fit, which helps to improve overall strength, endurance and conditioning.
As a new firefighter, Keltie specifically remembers how her FireFit training helped her on the job:
"During my very first winter on the job, we were called to what would be my first fire rescue," Keltie recalls. "I was required to trek a hose line through 3 feet of snow around to the back of a house, in freezing temperatures. I remember thinking as I pulled the hose with resistance through the snow – this is exactly like my training, this is exactly why I've been training. For me, it was really nice to see my hard work pay off in the line of duty, when every second counts and safety is on the line. In addition, I had to climb a ladder on the roof and remain composed under pressure, but I felt confident that thanks to my training, I was prepared."
Firefighter Training Nutrition Tips for Women
Keltie likes to keep her nutrition simple and clean. She believes that going into competition season, focusing on clean eating with high protein and lower carbs helps her stay fit and feel at her best.
Top Carbs: Potatoes, rice and sweet potatoes.
Key Proteins: Chicken, beef, fish, eggs, peanut butter and protein powders on the go.
Favorite food: Natural peanut butter: off the spoon, in protein shakes and on apples.
Why FireFit and FCC Are Great for Women Firefighters
In recent posts, team Lakeland members Ryan and Sean have talked at length about the great community of friends and colleagues at FCC competitions. For women, the experience seems to be very similar.
"In my experience, the women and men participating in the competition offer a tremendous amount of encouragement and support," said Keltie. "Everyone knows exactly how it feels, whether you are struggling or doing well, everyone is cheering for you and proud of what you've accomplished when you cross the finish line. They are always there to help you out; lift you up if you haven't had the best race and pick you up, dust you off, and tell you you'll get it on the next one." 
Keltie's Advice For First Time Competitors:
"Every time you step out on the course you are proving that you are willing to challenge yourself and work hard to reach your goals," Keltie stated. "You get so much respect from your fellow firefighters and other competitors for even attempting to complete the competition course. You are only out there racing yourself. When you cross that finish line it makes it all worth it. Once you drop that dummy and you hear everyone cheering for you and cheering you on, you'll be hooked. You'll meet new people from around the world and learn about other departments. Best of all, you'll build great friendships."
Advice if you are Struggling In Competition:
"Everyday just put one foot in the front of the other," said Keltie. "Just remember, this is the most rewarding this you'll ever do. It will make you feel like you are fit for duty every single day. If you can do this course and this competition, you can do everything on the fire ground. The FireFit and Firefighter Combat Challenge competitions take all of the hardest things you have to do on the job, and they put them back-to-back. If you can do the course, you can do anything on the job."
Looking for more information on getting firefighter fit? Take a look at Lakeland's Firefighter Fitness Guide, with training tips, nutrition advice and a tips to help you #GearUp for competition.
Lakeland Stealth™ Turnout Gear is the ultimate in fire protection technology. Advanced ergonomics combined with cutting edge materials give you superior protection with maximum freedom of movement. L
#GearUp with Lakeland.