In the midst of a wildfire season that is amplified by brutal heat conditions, wildland firefighters are on the frontlines – protecting communities and ecosystems ravaged by the flames. Unfortunately, wildfires are often carried into inhabited areas and are the source of destruction of hundreds of homes and businesses each year.
A wildfire is an uncontrolled fire that burns in wildland vegetation, often in rural areas. In turn, wildland firefighting is a specialized form of fire service that requires different gear and training than structural firefighting.
According to NBC news, the Dixie Fire, which is still burning at this time in Plumas and Butte counties, has charred more than 181,000 acres and consumed more than a dozen homes and properties. Evacuations have been ordered for the surrounding areas.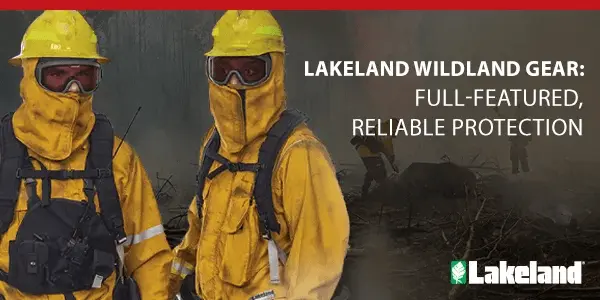 What Causes Wildfires?
The National Park Service estimates that nearly 85% of wildfires in the United States are caused by people. Sources include unattended campfires, downed power lines, discarded cigarettes, and acts of arson. Few wildfires occur due to natural circumstances such as lightening or lava.
In 2021, there were 36,796 wildfires between January 1 and July 27. During that same period in 2020, there were 30,760 according to the National Interagency Fire Center.
Approximately 2.8 million acres were burned, compared with 1.9 million in 2020.
Where Do the Most Wildfires Happen?
| | | |
| --- | --- | --- |
| State | # of Wildfires | # of Acres Burned |
| Arizona | 2,524 | 978,568 |
| California | 10,431 | 4,092,151 |
| Colorado | 1,080 | 625,357 |
| Oregon | 2,215 | 1,141,613 |
| Washington | 1,646 | 842,370 |
*Numbers from 2020
According to the Insurance Information Institute, 38 of the 50 US states are consistently at risk for wildfires due to their location within mountainous terrain, foothills, or grassland, drought, dry conditions, and high winds.
How do Wildland Firefighters Handle Wildfires?
Wildland firefighters are on the frontlines battling the blazes – sometimes for months on end.
In 2019, there were 9 fatalities, 16 burn injuries, 14 hit by tree incidents, and 15 vehicle accidents all while fighting wildfires and attempting to rescue those entrapped by the flames.
Fire Gear for Wildland Firefighters
Lakeland Industries is proud to manufacture reliable, high-quality wildland gear. Our lightweight gear is suitable for firefighting applications in outdoor, field, or forest settings while still offering the necessary levels of protection.
By combining Lakeland's Wildland pants, shirts, coats, and coveralls, you can experience gear designed with protection, comfort, and quality in mind. Contact a representative to find a Lakeland Fire dealer in your area.